Julliette Mensah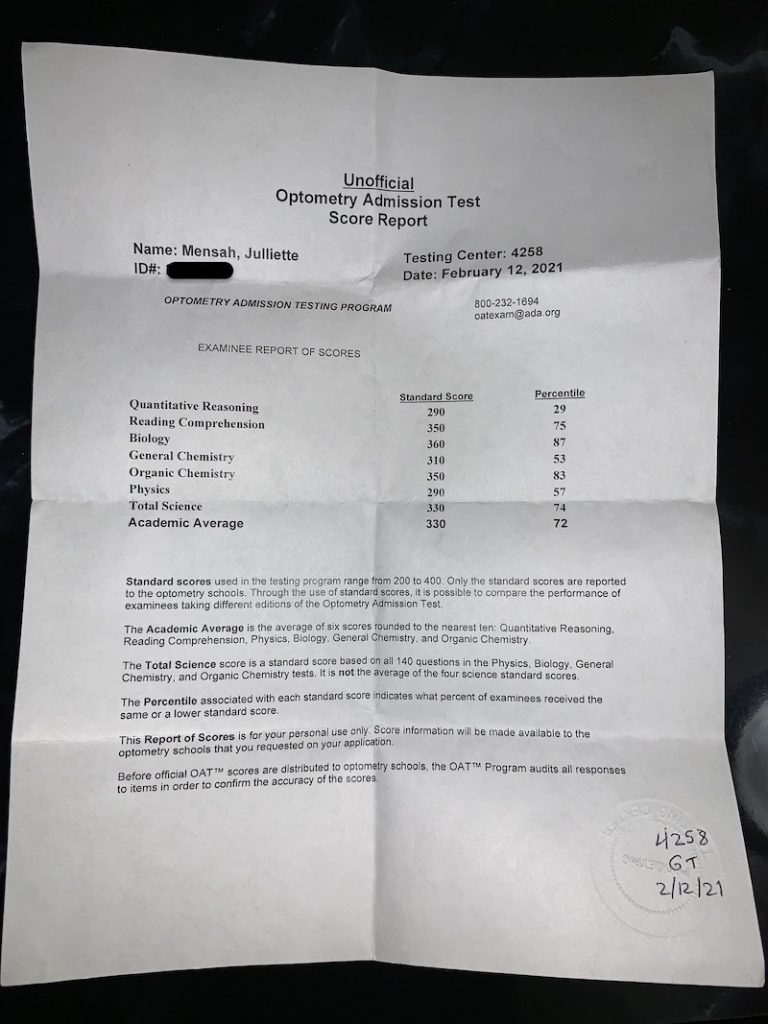 What is one piece of advice you would give to another student preparing to take the OAT?
Some nuggets of wisdom that I would give to someone who is studying for the OAT is to be realistic. This applies to a variety of things in terms of how much time one has to prepare and how much time they are realistically willing to put into studying everyday. One has to be in tune with themselves and honest. CrackTheOAT offers an abundance of study schedules but they are for the diligent. Especially the 4 week schedule which I tried to follow it is rigorous and requires commitment. I remember feeling anxious when I would miss a day or one day took longer than expected and would spill into the following day which already had its own set of tasks to complete for that day. I learned the hard way that it is ok to fall behind some days and nothing goes quite according to plan and that is alright. Things come up but it is important to be flexible and sometimes simply just reviewing notes or flashcards is better than doing absolutely nothing. Take it one day at a time.
Also, I would recommend not wasting time on prep books like Kaplan and Princeton Review. I am a perfectionist and attempted to read those books on top of CrackTheOAT and honestly Crack the OAT is more than enough. There is an abundance of resources available from comprehensive notes to cheat sheets and helpful mnemonics. It is easy to get overwhelmed with all the resources available but I feel as though CracktheOAT is unbeatable in terms of content and preparation and the pricing does not break the bank.
How did you use Crack the OAT to prepare for the OAT?
I used the explanation videos for Chemistry and Organic Chemistry. I took practice tests and watched the solutions on virtually every question regardless of if I got it right or wrong because the explanations offer insights that I may not have been aware about. I made use of the list of mnemonics which were very helpful especially for developmental biology (Do Not Pinch People) and Taxonomy (King Philip Came Over For Good Soup). The Flashcards and Question of the DAY was really helpful as well.
I would say the practice tests were the most helpful because they embodied the format of the real OAT, were timed just like the real OAT and offered step by step solutions for nearly every question. There were so much practice I didn't even get through it all come test day! This was truly amazing and the aspect that makes this prep program stand out among the rest.
What would you do differently to prepare for the OAT?
I think if I had the chance to prepare differently I would definitely only focus on one source to study. I spread myself too thin trying to cover all my bases by studying two prep books and CracktheOAT at once while using the study schedule the CracktheOAT made. So essentially I was giving myself almost triple the amount of work needed to be done daily and virtually no days off which led to burn out. I was no longer enjoying studying. It felt more like a chore. I learned the hard way that it is impossible to know everything for this test and practice truly is the key.
While I managed to score well, it would have been a lot less stress on myself if I had in just one source and reassured myself more often that I knew more that I thought I did. It can be extremely discouraging when you score low on the Crack practice tests. I felt as though the Crack tests were slightly harder than the real thing. Which made for productive practice looking back on it because the real OAT seemed easier. So in a nutshell I would solely use this source and avoid competing sources to avoid burnout and I would try to maintain a better more positive outlook on my progress as the real test tends to be easier than the Crack tests.
Join the Crack the OAT family to gain an advantage on your Optometry Admission Test to score higher, get accepted into optometry school and become an optometrist! Click here!