Brian Nguyen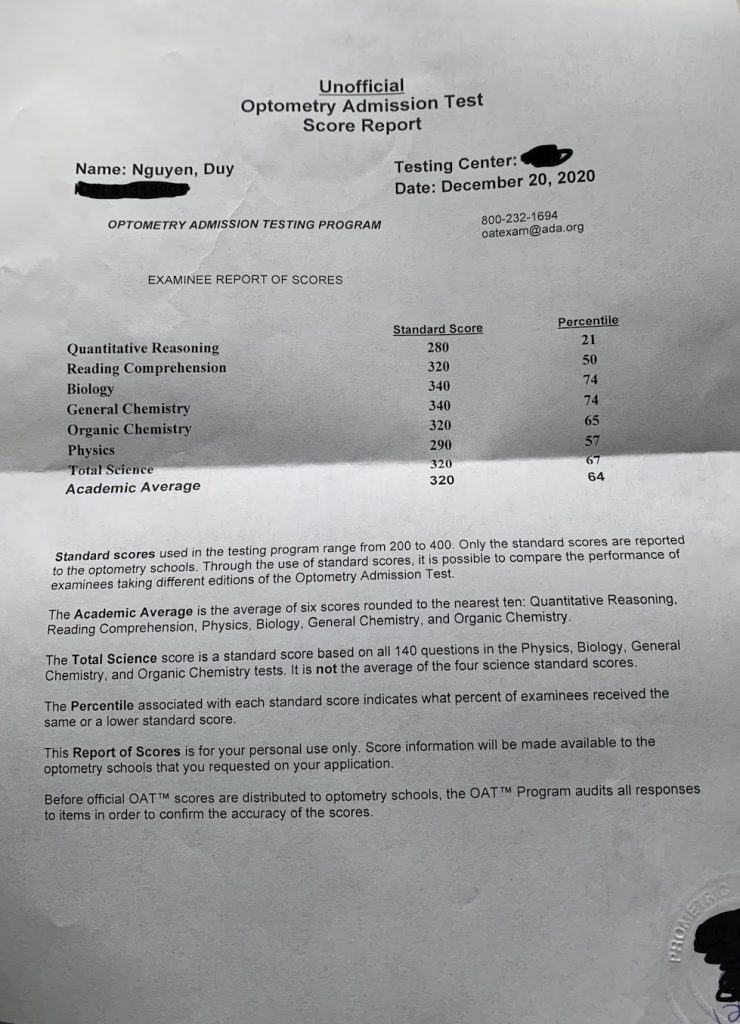 What is one piece of advice you would give to another student preparing to take the OAT?
When studying for the OAT, time is a big factor in determining your OAT scores. Depending on how you study and what you need to review or learn, it takes approximately two to three months for an average student to study for the OAT. As a result, I suggest taking time to learn the material without rushing.
As for me, I studied for about two and a half months but allowed myself to have three months in case unpredictable circumstances arose such as working overtime, taking care of my family, or school work. Another thing to keep in mind is to have a study schedule. This allows you to follow a set plan to achieve your goals of what you want to study for the week.
Another advice I would give is to take days off to relax and do the things you want to do. It can either be hanging out with friends, shopping, hiking, or just staying at home and watching Netflix. It is important to do this once or twice a week so you do not get burnt out. On these days off, try not to get stress from the previous days of studying or thinking about the OAT. Just relax and enjoy.
How did you use Crack the OAT to prepare for the OAT?
Crack the OAT came in handy as an amazing resource. Like I mentioned before, having a solid study plan is essential to scoring well for the OAT. Crack the OAT provided me a study plan to follow and what to learn in the week. This helped by allowing me to stay on track and not get swayed from my goals.
The program also includes multiple sets of flashcards including biology, chemistry, physics, and organic chemistry. I used these often to learn concepts and familiarize myself with equations and problems. I would do flashcards every other night for about 20 minutes on each subject. By the time the exam came around, I would already be familiar with the concepts and methods to solve the questions.
On the same note, taking the practice exam was the most helpful. Crack the OAT provided many practice exams that are full length for students in the program to take. I took about one exam a week and did a full review of the questions and answers the next week. I found this to be very helpful because the practice exam was similar to the questions I had during the actual OAT exam.
What would you do differently to prepare for the OAT?
What I would have done differently to prepare for the OAT was to spend more time on the math portion of the exam and remember how to solve the specific word problems. This was my biggest weakness when taking the exam. I was too overconfident about the math portion and did not study it very much. I thought I had it thinking it was only algebra, geometry, and simple math word problems. I was wrong. The actual exam contained content that I did not remember how to solve, not due to the Crack the OAT not presenting them, but I did not study it. So my advice is to not take the math portion lightly and study it too!
Another thing I would have done differently, was to take advantage of using Crack the OAT practice exam to learn how to pace myself for the actual exam. There are many practice exams, so using them to my advantage was something that I should have done more. I only did 4-5 exams. There are a total of 10 exams. However, in the end, it comes down to how much time you put into studying and how consistent you are in your study schedule. The more you study and familiarize yourself with the concepts and questions, the better you will do on exam day!
Join the Crack the OAT family to gain an advantage on your Optometry Admission Test to score higher, get accepted into optometry school and become an optometrist! Click here!