Kara Krautkramer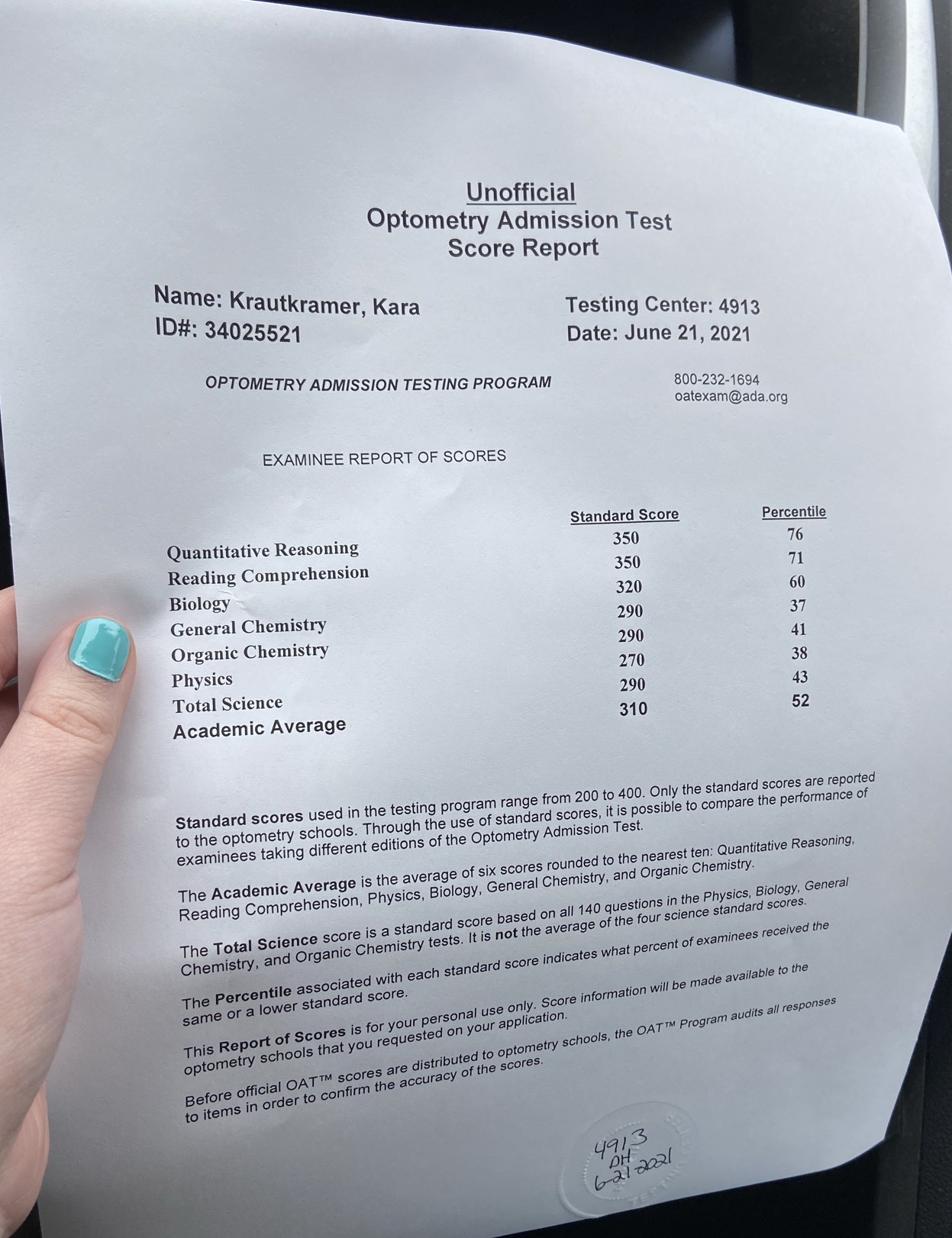 What is one piece of advice you would give to another student preparing to take the OAT?
While preparing to take the OAT it is important to first take an inventory of what you know. Depending on your level of college education and your course load, you may be more or less prepared for certain subjects. For example, as a Biology major, I felt fairly confident in my preparation for the Biology section, however having only taken one Physics course prior to my OAT, I felt much less prepared for the Physics section. Having this base knowledge allowed me to create a great strategy for studying and allow me to save time overall.
A second piece of advice would be to take studying day by day. It can seem very overwhelming at first to digest this mass amount of information. However, by breaking each day of studying up into just a few chapters of one or two sections, it can be much easier to accomplish. This also allows for easily reviewing what you have already studied and what material still needs some dedicated time.
How did you use Crack the OAT to prepare for the OAT?
I used Crack the OAT to prepare for the OAT by taking advantage of the great practice tests and the awesome content resources that come with. Taking practice tests is especially important because it helps you to simulate thinking critically for such a large block of time. This is a skill that is almost as important as content knowledge. At the beginning of my studying, I noticed it was very hard for me to continue to perform at a high level for this amount of time. However, as the weeks went by I noticed that this skill was greatly enhanced. I would compare this to training for a marathon. One should not expect to run the full 26.2 miles the day they start training, however that is still the end goal.
Another way I found Crack the OAT useful was that it was self-paced. This meant I had a clear view of what topics needed to be covered, but there were no deadlines besides test day. This allowed me a great deal of flexibility. As a college student who was working on personal statements, collecting letters of recommendation, and studying for the OAT at the same time, this flexibility was invaluable to me. I was actually able to complete a summer course, hold a part-time job, and study for the OAT in just one month thanks to Crack the OAT.
What would you do differently to prepare for the OAT?
Overall, I am very proud of my performance on that OAT, but there is always room for improvement. One of the things I would change about my OAT preparation would be taking Physics I and II before attempting the OAT. Physics ended up being my lowest tested section and I feel that having a stronger foundation before starting my dedicated studying would have made a huge difference.
Another change I would have made was booking my OAT date earlier. This would have allowed me to pick a date that is further away and study for just a few more weeks. I think having a longer dedicated study time period would have increased my score, however due to testing center openings near me I unfortunately only had four weeks of dedicated study. Overall, the OAT is a very manageable test if you take the time to prepare for it fully and plan on doing well the first time around.
Join the Crack the OAT family to gain an advantage on your Optometry Admission Test to score higher, get accepted into optometry school and become an optometrist! Click here!