Karli Sanders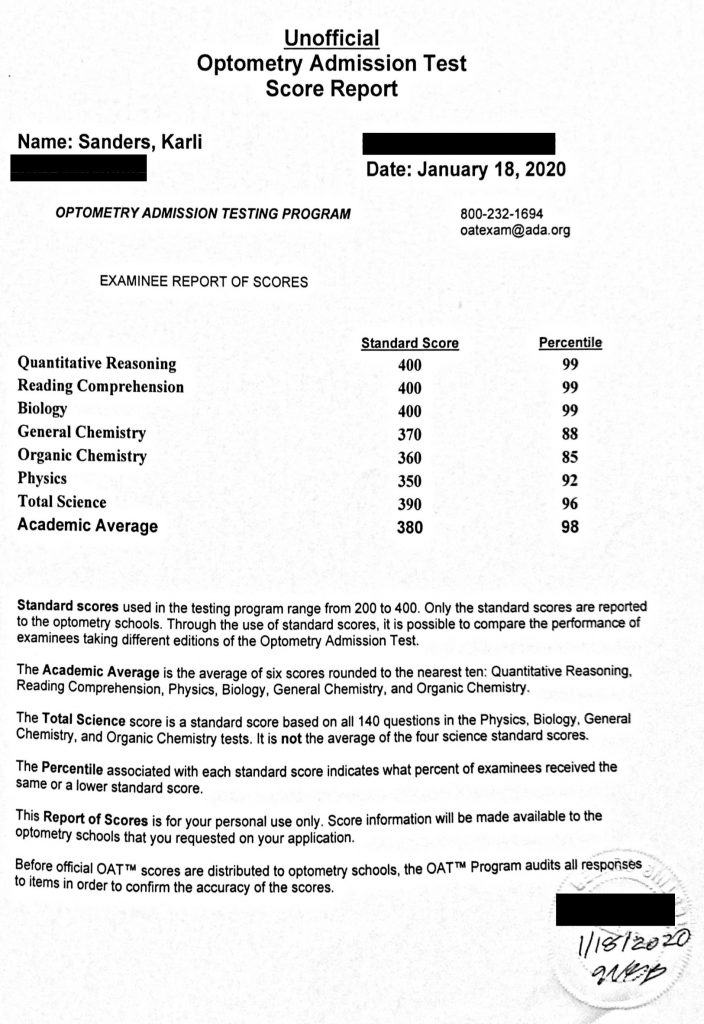 What is one piece of advice you would give to another student preparing to take the OAT?
My biggest piece of advice to students preparing to take the OAT would be to make a plan and stick to it. Especially if you aren't using a structured course to prepare for the OAT, it is crucial to hold yourself accountable and do what needs to be done. Anticipate how busy you're going to be in the time frame that you need to study and work out a plan to accommodate for that. For example, I started studying in May 2019 and took the OAT in January 2020. I knew that I was going to be busy with school during the fall 2019 semester, so I studied a lot over the summer so that I wasn't too stressed during the semester. I also made sure to study a little bit each week during the semester, and it even helped that what I was studying aligned with some of my classes. I typed out daily schedules in my phone and I made lists of all the study resources that I had available to me, and sometimes I would even print out a calendar dedicated to a strict OAT study schedule. To-do lists, calendars, and even a written-out plan can go a long way!
Additionally, I would definitely advise students to do what is best for them, in regards to both studying for the OAT and taking care of themselves. You need to start studying in advance so that way you can be sure that you're covering all of the material and also leaving enough time to practice with full-length tests and quizzes. However, you also have to be sure to not over-exert yourself. Do something for you every once in a while to get your mind off of the OAT, whether that's going for a walk or hanging out with friends and family. It's an incredibly important test, but nothing is worth sacrificing your physical and mental health.
Finally, I would encourage students to utilize all available resources for OAT prep. Think of it this way: Study like you're only going to take this test once. That means putting in some serious work, and you have to figure out what works best for you. I used a wide variety of OAT resources, including Crack the OAT, Princeton Review, Kaplan, OAT Destroyer, and Chad's Videos. I looked at all of the material, but I focused on what worked best for me and hit that hard. This ultimately helped me to efficiently prepare for the exam and achieve a great score!
How did you use Crack the OAT to prepare for the OAT?
Crack the OAT was one of the first resources that I used when starting to prepare for the OAT. I was definitely impressed by the amount of practice tests available, since that's by far the best way to prepare for the test. After I had finished my review of biology, general chemistry, organic chemistry, and physics, I took a whole lot of practice quizzes in the 2-3 weeks leading up to the exam. I even downloaded the Crack the OAT app on my phone so that way I could study on road trips and while laying in bed at night. For biology, I made flashcards over each of the quiz questions that I answered incorrectly. This helped me to target what I didn't know and focus on that right before the exam. For general and organic chemistry, I took as many practice quizzes as I had time to do, and I made sure that I reviewed and understood each problem fully before moving on. The timing for these categories was especially helpful for me, since I tend to be a slow test taker. After a few quizzes, I was able to figure out an effective timing strategy so that I could go through quickly and review the questions that I had marked with my leftover time. I eventually used this strategy on the actual OAT, and it served me very well!
Ultimately, Crack the OAT helped me with timing the most. I appreciated that the program mimicked how the actual exam would appear so that I could get comfortable with the timing and marking questions to review later. When I took my first full length practice exam, I had no idea how to pace myself for any of the sections, and I didn't get a score anywhere close to my goal. However, once I spent two weeks taking countless practice quizzes on Crack the OAT, I improved immensely, and I moved faster on the actual OAT than I had while practicing. This resulted in me exceeding the goal that I had set for myself!
I was so nervous to take the OAT. When reviewing all of the material from past courses that I had taken, I thought to myself, 'There's no way I'm going to remember everything and stay within the time limit!' However, the detailed explanations that Crack the OAT provides on every single practice quiz, as well as a layout similar to the actual OAT, were a life-saver! Taking the quizzes was great for timing, and reviewing the quizzes was great for learning the material. By using Crack the OAT, I ended up being way over-prepared for the OAT!
What would you do differently to prepare for the OAT?
I started studying for the OAT in May 2019 and took the exam in January 2020. I studied every single day during May, June, and July, and I had a plan to stay consistent with my studying throughout the semester. However, while I did my best to stick to my study schedule, I hadn't accounted for how busy I was already going to be during the semester with school, extracurricular activities, and work. Therefore, one thing I wish that I had done differently was anticipated how busy I was going to be and space out my studying some more. I studied general chemistry sporadically throughout the semester and then crammed organic chemistry and all of physics into less than a two-week time span, which was stressful at times. I wish that I had been able to more strictly stick to a schedule during the semester that was planned around my classes so that way I didn't feel like I was rushing everything in December.
Another thing that I would have done differently to prepare for the OAT was start taking practice tests and quizzes sooner. I started biology practice quizzes about a month before my exam, but I didn't take my first full length practice exam until two weeks prior to exam day. My reasoning was that I wanted to finish reviewing all of the material so that way I didn't waste a practice test guessing on everything, but I definitely should have finished reviewing sooner so that way I could have taken the tests sooner. This would have helped me to identify my weak points and have longer than two weeks to improve on them.
Ultimately, I wish that I hadn't over-exerted myself and stressed out so much! I stayed up late every night in the month leading up to the exam, and the entire week before, I didn't have much of an appetite and I was definitely sleep-deprived. I kept telling myself that if I studied hard now, then it would be worth it soon, but I was way too stressed! It's always important to take breaks to eat and de-stress. Social interaction can make you feel a lot better, or even just getting outside and moving around. I ended up with a great score, but I sacrificed a lot to achieve it!
Join the Crack the OAT family to gain an advantage on your Optometry Admission Test to score higher, get accepted into optometry school and become an optometrist! Click here!