Bobby Mundra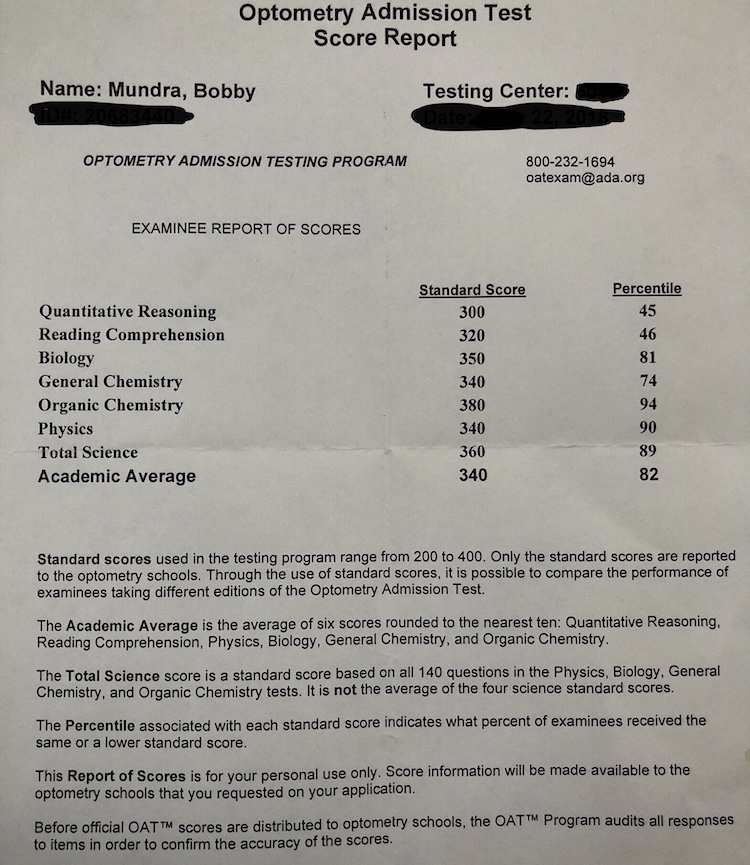 What is one piece of advice you would give to another student preparing to take the OAT?
When I studied for my OAT a couple years ago, I found myself going through a lot of emotions due to how taxing studying for a standardized exam may be. Now being on the other side of that OAT and being in optometry school, I'd tell my past self some key pieces of advice.
The first and most important piece of advice that I'd want to establish right away is to take care of yourself. If you feel drained, don't try to keep pushing with your studying. Give yourself time to relax and meditate so that you aren't putting your mental health on the line. In addition, let your friends and family know about how your studying is going. It's important to keep your supportive people in your circle while you're going to stressful studying periods.
Secondly, I'd want you remind you to grow thick skin. I failed every practice test I took at the beginning, don't be surprised if you do too. Trust that you're putting effort into getting better with your grades. Even if you don't see immediate results into your studying I promise you will see it in the bigger picture.
Finally, it's important to be self aware. This means leveraging your strengths and knowing when to allocate extra effort into your weaknesses. It's true when they say a chain is as strong as its weakest link. This also ties well into time management. If you know the type of person you are (procrastinator vs needs all the time possible), you'll know how to allocate your time.
This advice is simple, and I know if I followed it better, I'd have done even better on my OAT.
How did you use Crack the OAT to prepare for the OAT?
Crack the OAT helped my study for the OAT in a variety of ways that I wouldn't have been able to do myself. The abundance of questions offer on their site in combination with the timed testing environment provided prepared me better than I thought.
I was always one of those students who wouldn't put the pencil down after the test was over in elementary school, my teacher had to fight me for that test. It seems that same habit carried on to me practicing for the OAT. When I studied without this resource, I found myself spending longer than I should on a question. The thing is, I I didn't know how long I was supposed to spend on a question. When I started using crack the OAT I found that I was actually going overtime very often, so it helped me manage my time better. This really provoked me to think more critically and consolidate what I know to get to conclusions faster when picking out answers.
That being said when I started using Crack the OAT for practice questions I found them to be much more difficult than other resources I found online. I literally failed my first few tests and continued do so for a while. Eventually I found that score rising but not where I personally wanted it to be, even my last practice test before the OAT. Believe it or not after I wrote my OAT that was actually the highest grade I have ever gotten, even compared to my practice tests!!!! I couldn't have been more happier given that I procrastinated so much, and that goes to say that Crack the OAT really prepared me well.
What would you do differently to prepare for the OAT?
I think any student who overcomes a major test always looks back and wishes they had studied differently or done things differently leading up to it. I was no exception to that rule. There were a ton of things I'd have done differently.
My biggest regret was that I procrastinated for so long leading up to the day I booked my OAT… 3 months later. I don't think anyone I know has ever studied for a standardized exam in such a short period of time, and my friends thought I was crazy. To be honest I did drive me crazy studying for the OAT within three months. Crack the OAT helped a lot in dealing with my stress because I was able to structure my studying better. Even then.. I'd definitely change how long I gave myself to study for this exam.
Another way that I would prepare differently for the OAT is to reshape the way I saw the exam. For the whole three months leading up to it, I found myself daunted with the task of studying for this exam. It shouldn't have been this way, rather, if I looked at the importance of this foundational knowledge for optometry school, I'd have found studying for this exam more more engaging and relevant. Believe it or not, the topics and topics that Crack the OAT teach, do indeed come up again to be learned in professional school. So if anything, find interest in these topics where you can to make studying that much easier.
Join the Crack the OAT family to gain an advantage on your Optometry Admission Test to score higher, get accepted into optometry school and become an optometrist! Click here!